HH Burley Flake in Castello Liverpool.
---
Hunt Hard, Kill Swiftly, Waste Nothing, Offer No Apologies...
Gentleman, I hope all is well. I've been so busy working myself to death I haven't been on here while smoking with the heating pad on my back in the evenings.
Tonight I'm having some fresh Sutliff SV Whiskey Cavendish in a H.I.S. Italia pot. I nuked a bowl worth to smoke while the rest dries a few days. Not overly flavored, sweet, aromatic, a little nutty, not too shabby.
Sent from my GM1915 using Tapatalk
---
'I drink a great deal. I sleep a little, and I smoke cigar after cigar. That is why I am in two-hundred-percent form' -Winston Churchil
Relaxing after a wonderful chicken casserole dinner, and am smoking two thirds of a bowl of Watch City 4th Nun Returns in a 1999 smooth dark brown full bend Tim West ball with a black acrylic tapered stem. This will finish my stash of the blend. Watching Ken Burns' Country Music, episode one.
Squadron Leader Special Edition in a MM Cob
---
I gently bent one each into my nostrils, then put the remaining one in my mouf. --droy1958
Now smoking Bald Headed Teacher in a medium brown, smooth octagonal paneled bowl and shank, medium bend 2016 Tim West Book Keeper 6 with a black acrylic saddle stem.
HU Zulu in a Castello greatline dublin. Really enjoying Ken Burns's Country Music too. A bit repetitive but the music is great.
Part way through this bowl of year 2007 Stonehaven in a 1998 smooth medium bend Peterson Limerick 69 with a nickel band with a black vulcanite p-lip stem.
Enjoyed a tasty golden delicious apple, and am part way through this bowl of Esoterica Dunbar in a smooth straight late '50s, early 1960s Lane era Charatan Selected 43 Dublin with a black vulcanite double comfort saddle stem. This pipe was formerly owned by actor William Conrad. Phone chatting with the fella who gifted me the pipe.
Now smoking H&H Classic Burley Kake in the very first pipe I ever bought ($2.49) in 1974; a smooth three quarter bend Dr. Grabow Omega with a black vulcanite stem in the military mount style.
...and the Fishermen's side of the marina.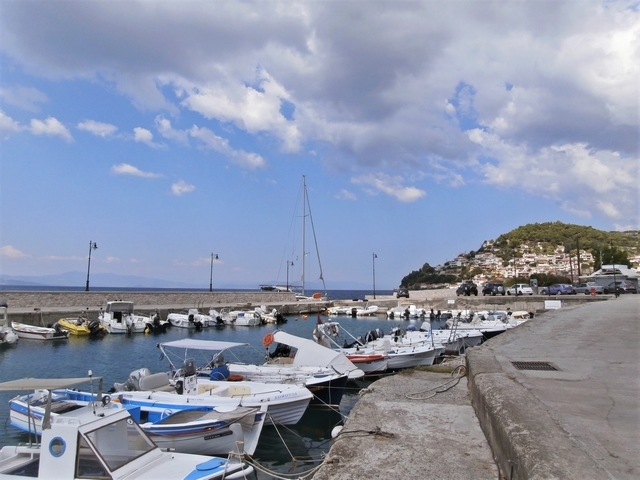 Gawith Hoggarth Rum Flake.